Jenn Seiff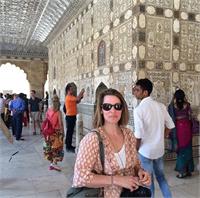 E-RYT200, RYT500
Born: Clearwater, Florida
Guiltless pleasures: Savasana, warm fuzzy feelings, good books, sunsets, weekends, addicting puzzles, & guacamole.
Why yoga: When I need to breathe and connect, I practice yoga. I believe whole-heartedly that yoga enables me to pay attention, connect the dots, decide how much and what I want to change, and find the inherent, innate joy that lives in every cell of my body.
Certifications: JourneYoga 200 hr, Sun & Moon Yoga Studio 300 hr
Jenn Seiff instructs the following:
Gentle yoga classes are meditative, fluid, and soothing, suitable for beginners and seasoned practitioners alike. You experience slow movements to warm the body and release muscular tension, breathing techniques to calm the nervous system, and simple postures to build stability.




A Yin practice is still, stable, cool, and solid, while a Yang practice is active, mobile, warm, and fluid. This class begins with meditation, follows with a yang flow to create muscular circulation, and ends with seated yin postures for connective tissue stimulation.