Sarah Pace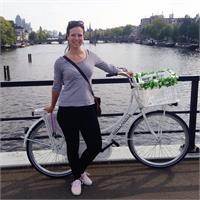 RYT 200
Born: Raleigh, North Carolina
Guiltless Pleasures: really good cappuccinos, hiking, kayaking, baking and cooking for those I love.
Why Yoga: Yoga makes the rest of life make sense! I first came to yoga through meditation. It was the combination of mindfulness and a physical practice that allowed me to discover the potential of yoga to heal and transform.
Certifications: Global Breath 200 hr YTT, Delight Yoga Anatomy and Yin 50 hr, Delight Yoga Yin and Chinese Medicine 50 hr, Yoga Medicine 200 hr YTT
Sarah Pace instructs the following:
A quiet, grounding practice that supports the entire physical as well as mental system. Special attention is brought to connective tissues. Includes long holds (3-5 minutes) of seated, supine, and/or prone postures.




Vinyasa yoga classes explore the balance between effort and ease, challenge and rest. The aim of this class is to strengthen the body by sustaining and linking postures, practicing Sun Salutations at your pace with your breath, and developing mental focus through meditation and breathing practices, all while toning the nervous system. This class is ideal for those with an existing yoga practice, though newcomers are also welcome.




Come practice a Yoga Mala to mark the change into the Winter season and support the Yoga Medicine Seva Foundation. Yoga Medicine's Seva Foundation works with Her Future Coalition and Rescue Foundation, two NGOs based on the ground in India. "Our mission is to fight human trafficking & sexual exploitation by empowering global, impoverished communities through efforts of education and entrepreneurship." YMSF's 2017 & 2018 volunteering opportunities & fundraising efforts will help establish a new shelter 45 miles outside of New Delhi. This shelter is due to open its doors to human trafficking survivors in early 2018 & will house over 100 women & children.

A Yoga Mala is the practice of doing 108 Sun Salutations. It is a moving meditation - a time to clear out the old, and make intentions for the new season ahead. The number 108 holds great significance in the yogic tradition, representing wholeness and spiritual completion. Don't be intimidated by the idea of doing 108 Sun Salutations! The practice will be broken down into 4 sets of 27 Salutations with small breaks in between. You may even find that the power of intention and the support of the group will carry you through the practice. We will begin with a short talk on the significance of the Winter Solstice and themes of the season, and end with a long restorative savasana. Take part in this empowering practice and move yourself into the new season with intention and purpose.

Pre-register online. Recommended minimum donation $20.00. Please bring your donation to the studio in either cash or check.