Anna Jackson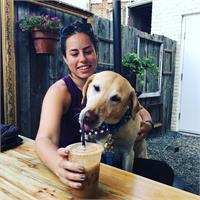 RYT-200
Born: Greenfield, MA
Guiltless Pleasures: chocolate with peanut butter, reading, drinking coffee with friends, hiking, going to the beach, & knitting
Why Yoga: Yoga allows me to connect with my breath and body - which helps ground me in the present moment.
Certifications: JOURNEYoga 200-hour YTT, Yin Yoga with Indira Kalmbach 16hr, Restorative Teacher Training with Jillian Pransky 50hr
Anna Jackson instructs the following:
Gentle yoga classes are meditative, fluid, and soothing, suitable for beginners and seasoned practitioners alike. You experience slow movements to warm the body and release muscular tension, breathing techniques to calm the nervous system, and simple postures to build stability.




Moderate Vinyasa yoga classes explore the balance between effort and ease. The aim of this class is to strengthen the body by sustaining more challenging postures, practicing Sun Salutations at a moderate pace, and developing mental focus through meditation and breathing practices. This class is ideal for those with an existing yoga practice, though newcomers who feel fit and strong are also welcome.




A quiet, grounding practice that supports the entire physical as well as mental system. Special attention is brought to connective tissues. Includes long holds (3-5 minutes) of seated, supine, and/or prone postures.




In a Restorative yoga class, the key here is support via skillful placement of blankets, bolsters, cushions, straps, the wall, and/or chairs, enabling the body to hold various shapes for longer times than we typically would hold active poses.




Vigorous Vinyasa offers graceful, powerful sequences that encourage you to explore. This class is designed around Sun Salutations, and requires a keen sense of body awareness and enough familiarity with yoga to modify as needed. Vigorous Vinyasa is ideal for those interested in a strong, athletic practice, as well as for those ready to experience a challenging flow.