Annamma Johns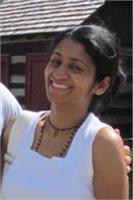 E-RYT200,YACEP
Born: Kerala, India
Guiltless Pleasures: Walks in nature with my husband and children, learning about: spirituality, yoga philosophy, meditation, the wonders of the infinite cosmos and the human potential for discoveries & inventions.
Why Yoga: Growing up in India in the yogic culture and practicing yoga ever since I can remember, I cannot not do yoga and talk about its benefits on our mind and body.
Certifications: Yoga & Meditation TT from Master Kamal Srinivas of Patanjali Yoga Institute, India, Core Power Yoga L1 200hr & Level2 TT 40hr, Duke University's Certificate in Therapeutic Yoga for Seniors, Mindfulness Based Stress Reduction Program with Insight Meditation Community of Washington
Annamma Johns instructs the following:
Basics is accessible and enlivening. You're guided through foundational postures such as Mountain, Warrior, and Downward-Facing Dog, and practice breathing techniques aligned with movement. Expect clear instruction and a steady pace. This class is perfect for anyone starting out their yoga journey, as well as for those looking to revisit the fundamentals.




A Yang practice is active, mobile, warm, and fluid, while a Yin practice is still, stable, cool, and solid. This class begins with meditation, follows with a standing posture flow to create muscular circulation, and ends with seated static postures for connective tissue stimulation.