Thubten Chokyu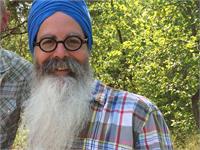 RYT 200
Guiltless pleasures: Being barefoot every chance I get, theater, cinema, travel, dance and napping.
Why Yoga: Yoga brings me closer (still have a ways to go) to sanity and a stronger understanding of what's important in life, like kindness, friendship, and generosity of spirit. I must admit, too, to enjoying being in a healthy and expansive altered state when I'm finished.
Certifications: Kundalini Yoga 200hr, Kundalini Yoga - Yoga for Youth, Kripalu Yoga 200hr
Thubten Chokyu instructs the following:
Flow & Let Go incorporates the qualities of Gentle Flow with Restorative. The first 45 minutes you experience gentle Sun Salutations, slow movements to warm the body and release muscular tension, breathing techniques to calm the nervous system, and simple postures to build stability. The last 30 minutes will be spent in two or three Restorative postures supported via skillful placement of blankets, bolsters, cushions, straps, the wall, and/or chairs.




Ease into your day with a morning yoga practice that will awaken and stimulate your mind and body.




Moderate Vinyasa yoga classes explore the balance between effort and ease. The aim of this class is to strengthen the body by sustaining more challenging postures, practicing Sun Salutations at a moderate pace, and developing mental focus through meditation and breathing practices. This class is ideal for those with an existing yoga practice, though newcomers who feel fit and strong are also welcome.