Fred Williams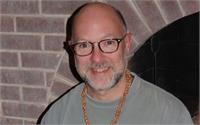 RYT200
Born: Lynchburg, VA
Guiltless Pleasures: Chocolate, loose leaf teatime, anything sci-fi, thai yoga massage, trips to the mountains, going anywhere on my bicycle, getting lost in the woods.
Why Yoga: I'm on a spiritual journey and yoga is my chosen path. To paraphrase Ralph Waldo Emerson - Yoga is a journey, not a destination.
Certifications: 532Yoga 200hr, Physiology and Dance Kinesiology at GWU, ACE/IDEA and AFAA fitness instructor
Fred Williams instructs the following:
Basics is accessible and enlivening. You're guided through foundational postures such as Mountain, Warrior, and Downward-Facing Dog, and practice breathing techniques aligned with movement. Expect clear instruction and a steady pace. This class is perfect for anyone starting out their yoga journey, as well as for those looking to revisit the fundamentals.




A Yang practice is active, mobile, warm, and fluid, while a Yin practice is still, stable, cool, and solid. This class begins with meditation, follows with a standing posture flow to create muscular circulation, and ends with seated static postures for connective tissue stimulation.




Vigorous Vinyasa offers graceful, powerful sequences that encourage you to explore. This class is designed around Sun Salutations, and requires a keen sense of body awareness and enough familiarity with yoga to modify as needed. Vigorous Vinyasa is ideal for those interested in a strong, athletic practice, as well as for those ready to experience a challenging flow.